Stonehenge tunnel plan 'severely flawed'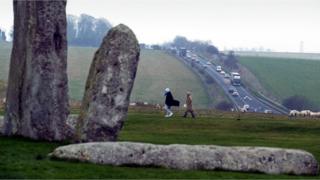 Plans for a road tunnel near Stonehenge are "severely flawed" and the "whole project must be re-assessed" a World Heritage Sites advisory body has said.
In a letter to Highways England, the International Council on Monuments and Sites (Icomos) said it strongly objected to the proposals for the A303.
A public consultation into the 1.8-mile (2.9 km) tunnel ended on 23 April.
David Bullock from Highways England said the "vital route" would cut congestion and boost the economy.
He said: "The scheme will enhance and protect the 10,000-acre World Heritage Site by reuniting the landscape."
Highways England would continue to consult with everyone who has an interest in the scheme, Mr Bullock added.
The letter was sent by Peter Marsden, the chair of the Icomos-UK World Heritage Committee, which advises Unesco on World Heritage Sites (WHSs).
He said plans for dual carriageways at both ends of the tunnel would have a "substantial negative and irreversible impact".
Mr Marsden said the preferred route was "severely flawed and its impacts cannot be readily mitigated".
"It is essential that the whole project be re-assessed and a wider range of routes and construction options explored," he added.
The letter also said the proposed tunnel is too short, other options for a bypass have not been properly considered, and the UK's reputation for protecting cultural heritage would be affected.
Andy Rhind-Tutt, chairman of Amesbury Museum and Heritage Trust, said Icomos-UK's response was "precisely what we've been telling our MP, the government and Highways England for the past four years".
"This has so far been a complete waste of of money. There has already been destruction of some of the archaeology on site whilst test holes have been dug," he said.
'Highly professional'
Highways England disputed the allegation that archaeology had been destroyed, saying this was "alarmist and untrue".
Mr Bullock said excavation work had been agreed in consultation with the Heritage Monitoring and Advisory Group and independent archaeologists.
"The works are being undertaken in a highly professional manner with due care being exercised at all times," he said.
The tunnel proposal is part of a £1.6bn upgrade to the A303, which links the M3 from London to the M5 in the south west and passes close to the ancient monument.