Salisbury gets free parking in wake of spy attack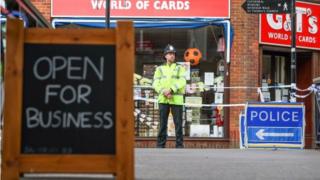 Free parking is to be introduced in Salisbury to help support businesses following the nerve agent spy attack.
Traders have been hit by a drop in sales since Sergei Skripal, 66, and his daughter Yulia, 33, were attacked.
Parking in the city's 14 car parks will be free from Saturday until further notice, to encourage shoppers to return, Wiltshire Council said.
Council leader Baroness Jane Scott said visitors were "rightly concerned" but it was "very much business as usual".
Independent businesses in The Maltings, close to where the Skripal's were found unconscious on a bench on Sunday 4 March, said they have been badly hit by the closures and cordons.
"The retail side of our shop has definitely taken a big hit," said Dan Mills, who owns The Cake Forge, "we're just not getting the footfall through The Maltings".
Claire Singleton, owner of Crystals, added: " I think the general sort of fear in the city is keeping people away - footfall is much lower."
The parking plans will cost the council about £100,000 per month and Baroness Scott told BBC Wiltshire she expected it to be in place for months rather than weeks.
She added there was no actual guarantee of funding from central government yet but she said the council will use its own reserves if not.
Last week, the council said it would set up a hardship fund for businesses affected by the closures and cordons.
Additionally, it said it would help businesses apply for rate relief, with the government saying it would waive some business taxes.