UK snow: Motorists on A303 forced to sleep in vehicles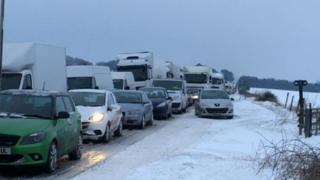 Drivers were forced to spend the night in their vehicles as severe weather affected parts of Somerset and Wiltshire.
Up to 100 vehicles were stuck on the A303 in Wiltshire while Highways England staff work to clear the road.
Wilshire Police declared a "major incident" due to the adverse weather conditions.
The force said it believed everyone who had been stranded on the A303 had now been rescued by officers.
Wiltshire Council also declared a "major incident" to deal with issues on the road and routes leading to it.
A coach with 40 passengers on board, including a baby, was also stuck, after setting off from London on Thursday afternoon.
Stranded lorries
Highways England spokesman Chris Regan said it would take "a good period of time" to clear all the stranded vehicles.
One driver, Andrew Edwards, said he was trapped on the A303 at West Knoyle near Warminster overnight.
"I think it's several hundred vehicles [that are stuck]. All I can see is traffic back and front," he said.
Another driver, Tom Hardy, said he got stuck behind "a lot" of stranded lorries on the A303.
"I spent the night in the car with the engine running. There were a lot of people, a lot of cars [doing the same]," he said.
"Everybody's been sleeping in the car. There's been nothing coming by. The road is covered in snow."
Coach driver Kevin, said he and his 40 passengers were "stuck here waiting for help".
"People are curling up and trying to sleep until emergency services arrive," he said.
"The snow got thicker and thicker and we got as far as Wiltshire and it started getting terrible, so we ended up getting stuck completely."
Volunteers assisting
Supt Phil Staynings, of Wiltshire Police, said the situation was "particularly difficult".
Wiltshire Police urged drivers to stay at home and only make journeys that are absolutely necessary.
A spokesman said many roads, including some major routes, had been left "completely impassable" following the severe weather conditions.
They added that officers had been "extremely busy" attending calls regarding jack-knifed lorries, abandoned vehicles, and drivers whose vehicles had become stranded on the A303 and the A346.
"Despite the advice issued by police and partner agencies, many people have continued to attempt to travel."