Wiltshire Police appoints temporary chief constable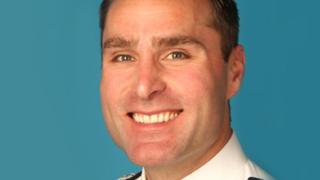 A new chief constable has been appointed to lead Wiltshire Police temporarily.
Assistant Chief Constable (ACC) Kier Pritchard will take over from Mike Veale who has quit the force to take up the same position at Cleveland Police.
Mr Pritchard will begin on 5 March for a period of 12 months.
Police and Crime Commissioner Angus Macpherson said a formal recruitment process would happen later this year.
"Kier is an experienced senior police officer and will provide stability, innovation and build upon excellent foundations," added Mr Macpherson.
He has served as a police officer in Wiltshire since 1993 and as ACC since 2014.
Mike Veale's contract as chief constable was due to expire this summer and it had not been renewed by the PCC due to an ongoing investigation.
He had previously been criticised over the force's handling of an investigation into historical allegations against former Prime Minister Sir Edward Heath.
ACC Kier Pritchard described him as "a fantastic leader" and said he was leaving the force "in great shape".
"We are blessed with outstanding officers, staff and volunteers across our organisation who achieve great things every day and who strive to provide an excellent service to all of our communities.
"Now is the time to look forward and to continue, as we've always done, with our values and communities at the heart of everything we do," he added.