Wiltshire Police chief Mike Veale accused of misconduct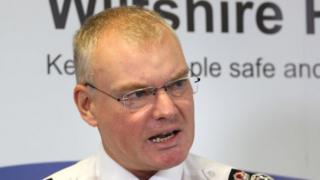 A senior police officer is being investigated for alleged misconduct relating to the inquiry into allegations against Sir Edward Heath.
Claims Wiltshire Police Chief Constable Mike Veale deliberately damaged a police-owned mobile phone are being probed by the police watchdog.
Wiltshire PCC Angus Macpherson said Mr Veale's contract had not been renewed because of the investigation.
Mr Veale has since accepted a job as Cleveland Police's chief.
He had previously been criticised over Wiltshire Police's handling of Operation Conifer, an investigation into historical child sex abuse allegations against former Prime Minister Sir Edward Heath.
Wiltshire Police and Crime Commissioner Angus Macpherson said nothing in the allegations caused him "to question either the fact or the outcome of Operation Conifer".
Cleveland PCC Barry Coppinger said he had been aware of the IOPC investigation and had taken professional advice on the matter.
He said: "This matter has no bearing on my confidence in Mike or my decision to recommend him for the office of chief constable."
However, Tees Valley Mayor Ben Houchen said the investigation "massively" affected his confidence over Mr Veale's appointment at Cleveland Police.
He said: "We've got a police force that's also under a massive investigation. This just isn't good enough.
"He shouldn't be taking charge. Barry Coppinger and Cleveland Police really need to seriously consider Mike's position because it's not right for the people of the Tees Valley.
"The people deserve much better than what they're getting from their force at the moment."
'Series of allegations'
A statement from the Independent Office for Police Conduct (IOPC) said: "We received a referral from the Wiltshire Police and Crime Commissioner in November 2017 detailing anonymous allegations about Chief Constable Mike Veale relating to Wiltshire's investigation into Sir Edward Heath.
"After a thorough assessment, we decided the part of the referral relating to the disclosure of confidential information was insufficient to indicate either a criminal offence may have been committed or a breach of professional standards.
"That matter has been returned to the Police and Crime Commissioner to deal with in any manner determined appropriate.
"The IOPC has however decided to independently investigate a second part of the referral relating to allegations that a mobile phone belonging to Wiltshire Police was deliberately damaged by Chief Constable Mike Veale.
"This investigation is in its early stages."
Mr Macpherson said he received an anonymous letter making "a series of allegations" against Mr Veale and said, although he had "every confidence in him", it would not have been appropriate to renew his contract until the investigation was complete.