Stonar School music teacher 'boasted about sex toys'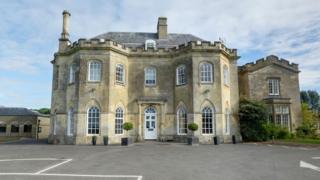 A music teacher who likened himself to Brad Pitt and boasted about his sex life to pupils has been struck off.
Guy Rogers, 44, told pupils he could "take your mum off your dad" and asked female students if they found him attractive, a panel heard.
The guitar tutor, who taught at private Stonar School in Melksham, also quizzed pupils about their own love lives.
He denied the allegations but was found to have breached professional standards.
A National College for Teaching and Leadership misconduct panel rejected his claim that the complaints against him were lies.
Over the course of three hearings, they heard how Mr Rogers repeatedly engaged pupils in inappropriate conversations during private lessons.
Two pupils accused the teacher of asking them if they "would consider going out with him".
When interviewed by police in the early stages of the investigation, he said he got "the same reaction as would have been expected had he been Brad Pitt walking into the school".
'Sexual activity'
The report quoted Pupil A, who said Mr Rogers "told her that he had previously had a 'threesome' and that one of his friends had bought him sex toys."
Another pupil, referred to as B, alleged he had recounted past sexual experiences and made her "pinky promise" not to tell anyone when he confessed to owning sex toys.
Mr Rogers also asked the girls to feel his biceps and stomach muscles, the panel heard.
One pupil also told the panel Mr Rogers had told her when she should lose her virginity and advised how many sexual partners she should have.
In it findings, the panel also found he had stated he would be unhappy if his daughter had a black boyfriend, and had made jokes about Muslims.
However, its members decided there was insufficient evidence to suggest his behaviour was sexually motivated.
It also said there was insufficient evidence to support claims Mr Rogers breached professional standards when he sang love songs to the girls and called them "babe" and "baby".
Mr Rogers had worked at the school since 2005 but an investigation into his conduct was launched in May 2015 and he left in June 2015.
No charges were brought against him as a result of the earlier police investigation.
Mr Rogers can apply for the order to be lifted in three years' time.