Work starts on Dyson tech campus in Wiltshire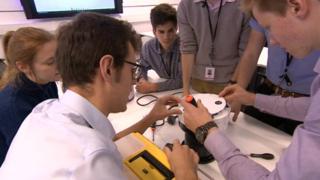 Work has begun on a new engineering institute set up by inventor Sir James Dyson to train hundreds of engineers.
The £15m institute will be based at Dyson's campus in Malmesbury in Wiltshire and will offer a four-year engineering degree.
Sir James claims the UK needs another one million software, hardware and electronics engineers by 2020.
He said he set up the institute after complaining to government ministers about skills shortages in engineering.
Sir James said 850 students applied for the initial places and 33 students began learning in temporary classrooms in September.
The undergraduates are mentored by Dyson's scientists and engineers who will teach students alongside academics from the University of Warwick.
"It's a tough course but they're employed, they're paid, there's no fees and they end up at the end of four years with an engineering degree," Sir James said.
"I hope and I believe that they will be the best trained engineers in the world."
Universities Minister Jo Johnson, who challenged Sir James to set up his own institute to tackle the skills gap, helped cut the turf for the new student buildings at Dyson's Malmesbury Technology centre.
The new campus will include study facilities, a library, and accommodation for undergraduates.