Emile Cilliers parachute trial: Jurors warned against 'bullying'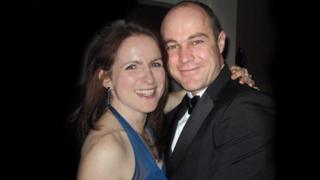 The judge in the trial of an Army sergeant accused of trying to murder his wife by tampering with her parachute has warned the jurors not to "bully" each other.
Nine women and three men have been deliberating since last Tuesday in the case of Emile Cilliers.
Two jurors fell ill and were discharged after Mr Justice Sweeney issued a majority direction.
Mr Cilliers denies two charges of attempting to murder his wife Victoria.
Mr Justice Sweeney gave the direction on Tuesday to jurors at Winchester Crown Court, saying that he would accept majority verdicts.
'Exhausting discussions'
Ninety minutes after this, one of the jurors became ill.
On Wednesday, the forewoman also fell ill, with both jurors dismissed after the judge received medical certificates.
He told the jurors, who have now been deliberating for 23-and-a-half hours: "Jury service is not easy; it never has been.
"By their very nature, some trials require jurors to address deeply sensitive human problems, and some discussions may be fierce or tempestuous, with powerful arguments and counter-arguments.
"In such cases, discussions by their nature will be exhausting.
"However, and obviously, all must remain within the proper bounds of discussion, and not amount to improper pressure or bullying."
Mr Cilliers, 37, is accused trying to kill Victoria, 40, who survived a 4,000ft fall on 5 April 2015.
It is alleged he tampered with her parachute before the jump, causing her to plummet to the ground.
Prosecutors also claim the defendant made another attempt to kill Mrs Cilliers by deliberately causing a gas leak in the family home days before the fall.
Mr Cilliers denies two counts of attempted murder and another criminal damage charge relating to the gas valve.
The jury will continue its deliberations on Thursday.