AK-47 handed to Wiltshire police during weapons surrender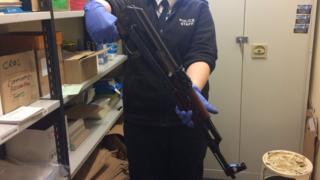 An AK-47 assault rifle has been handed in to police during a nationwide firearms surrender initiative.
The deactivated weapon was given to staff at Trowbridge police station in Wiltshire on Monday, which marked the first day of the two-week campaign.
A force spokesman said the surrender of the gun would encourage people to hand in other weapons and stop them "getting into the wrong hands".
Police say many firearms are held in ignorance of their illegality.
People who surrender firearms will not automatically be charged, but will be if they are later connected to a crime.