Emile Cilliers trial: Army sergeant was 'skilled parachute packer'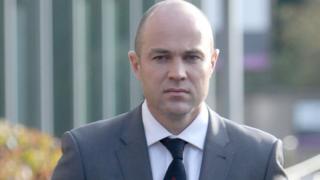 A man accused of trying to kill his wife by sabotaging her parachute was a "skilled packer" and "knew what he was doing", a court has heard.
Victoria Cilliers, 40, suffered multiple injuries in a 4,000ft fall at Netheravon Airfield, Wiltshire in 2015.
Emile Cilliers, 37, denies attempting to murder his former Army officer wife.
Winchester Crown Court heard Mr Cilliers was a qualified main parachute packer and had been on an advanced reserve packing course in October 2012.
Prosecutors allege Mr Cilliers, of the Royal Army Physical Training Corps in Aldershot, twisted the lines of his wife's main parachute and removed two slinks - which attach lines to the harness from a reserve chute - on the day before her jump.
The army fitness instructor is also accused of a third charge of damaging a gas valve at their home a few days earlier, in the second allegation that he attempted to kill his wife. He denies all three charges.
George Panagopoulos, a chief rigger at the Army Parachute Association, told the court that Mr Cilliers was a "skilled packer" and "knew what he was doing".
He said: "He had good knowledge of parachutes and canopies and various bits that go with it."
Mr Panagopoulos said that during the course Mr Cilliers had "hands on" experience of assembling a reserve with slinks and at the end of the course would have known "how everything is assembled and fitted and put together and closed".
He added that Mr Cilliers would have had "100%" knowledge of how to fully assemble and pack a reserve parachute.
Mr Panagopoulos told the court that although Mr Cilliers had completed the course, he had not carried out enough supervised packings to gain the qualification in packing reserve parachutes.
The trial continues.