Emile Cilliers trial: Parachute 'not tampered with in toilet'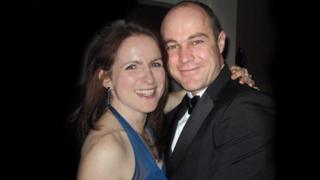 An instructor at a sky-diving club where a man is accused of tampering with his wife's parachute has said he does not think an alleged sabotage could have taken place in a toilet.
Victoria Cilliers, 40, suffered multiple injuries in a 4,000ft fall at Netheravon Airfield, Wiltshire in 2015.
Emile Cilliers, 37, denies attempting to murder her.
Mark Bayada told Winchester Crown Court, the toilet door's "weak hook" could not "take the weight" of kit.
Prosecutors allege Mr Cilliers, of the Royal Army Physical Training Corps in Aldershot, tampered with his wife's reserve parachute by removing two slinks, used to attach the lines with the harness.
The Army sergeant is also accused of a third charge of damaging a gas valve at their home a few days earlier, in the second allegation that he attempted to kill his wife. He denies all three charges.
The court has heard that Mr Cilliers allegedly took his wife's packed parachute into the hangar's toilets where he is accused of tampering with it.
But when Mr Bayada was asked if the sabotage could have taken place in a toilet cubicle with the parachute hung on a hook on the back of the door, he told the court: "I do not think so."
"One, the hook is very weak, it's a soft metal hook, I'm not sure if it would take the weight of the equipment," he said.
"The other one is the weight of the kit itself, it's very difficult to work on a set of kit."
The chief instructor at Netheravon airfield, also told the court he did not know how knots in Mrs Cilliers' reserve parachute lines had occurred but it could have happened as a result of the slinks being removed.
When asked how knots, found high up the lines closer to the canopy, might have occurred, he said he "absolutely" did not know.
"It's the first thing I found to be very unusual about the whole thing," he said.
"To have the knots created deliberately above the sliders when the parachute is packed, that would need you to open the reserve container, undo the lines, pull them through the slider and restart it."
He added: "You wouldn't need to unfold the material but you would need to deploy all the lines; quite a lengthy process."
The trial continues.