Emile Cilliers trial: Parachute murder bid accused 'unemotional'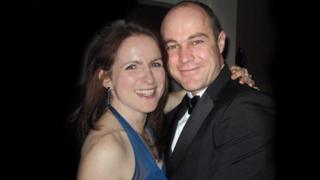 An Army sergeant accused of sabotaging his wife's parachute was said to be "unemotional and bewildered" the day after the jump, a court has heard.
Victoria Cilliers, 40, suffered multiple serious injuries at Netheravon Airfield, Wiltshire, on 5 April, 2015.
Emile Cilliers, 37, denies attempting to murder her.
Parachute instructor Mark Bayada told Winchester Crown Court, Mr Cilliers also seemed "very quiet" and "in shock" when he spoke to him at the airfield.
However, he added he did not know him very well personally.
Prosecutors allege Mr Cilliers, of the Royal Army Physical Training Corps in Aldershot, tampered with his wife's main parachute and removed two slinks from the reserve which are used to attach the harness to the rigging.
The 37-year-old is also accused of a third charge of damaging a gas valve at their home a few days earlier in the second allegation that he attempted to kill his wife. He denies all three charges.
Mr Bayada, chief instructor of the Army Parachute Association at Netheravon, told the court that after he spoke to Mr Cilliers on 6 April, further investigations into what happened were carried out.
Later that afternoon he said he decided to contact the police about the parachute malfunction.
He said a search of the landing area for the parachute's missing parts was carried out, with a search involving 45 people taking place a week after the jump.
Witness James Lowrey saw Mrs Cilliers' parachute "collapse in on itself" and he compared it to a "quilt with a weight attached", the court heard.
Mr Bayada said it appeared Mrs Cilliers was not caught up in the main parachute and "was stable at the time of deployment".
Elizabeth Marsh QC, representing Mr Cilliers, asked Mr Bayada if he felt Mrs Cilliers made "no effort" to "kick-out" of the twists in the lines or use the brakes in the malfunctioning parachute.
He said: "In my mind, most likely, there was another problem, something stopping being able to release the brakes."
'Very unusual'
Mr Bayada said after realising Mrs Cilliers had survived the priority was to get her medical help.
"Then it was to have an initial look at what happened, because what happened to her was very unusual which I have never seen before in my whole time jumping, so when we were to start jumping again it would be safe for all the other club jumpers," he told the court.
He added that Mrs Cilliers' petite stature would not have affected the outcome of any parachute malfunction.
He said: "When it's a malfunction, it's a malfunction and even the lightest person is going to die if they do not do anything about it."
The trial continues.