Britain in Bloom: Melksham gets gold despite tree felling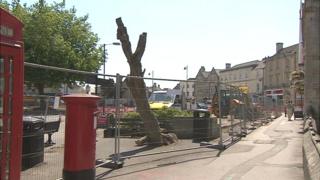 A town which had its trees chopped down in a council blunder the night before being judged for Britain in Bloom has been awarded a gold.
Volunteers were left "horrified" when Wiltshire Council cut down trees in the Market Place in Melksham ahead of a South West Britain in Bloom bid.
Despite the tree stumps and "enormous mess" left, the town was given its highest award to date by judges.
Kathy Iles, chair of Melksham Bloomers, said it was "absolutely amazing".
The trees in the town's Market Place were removed by the council as part of a planned redevelopment.
Ms Iles said she had been walking "the route for a last check" when she saw contractors cutting them down and making an "enormous mess".
Despite trying to get them to stop, the area was left with just a tree stump and a half-felled tree with "Christmas lights dangling from it".
"It wasn't possible to hide it and there was no way we could cover it up, it was just really unfortunate," said Ms Iles.
"But there's an RHS judging rule that any areas under redevelopment are not judged.
"When they announced we got the gold, I'm surprised they didn't hear me scream in Melksham. It was the most incredible feeling."
Wiltshire Council apologised but said the trees had been in poor condition and were removed as "part of ongoing investment in Melksham".