Emile Cilliers trial: Wife 'among top UK parachutists'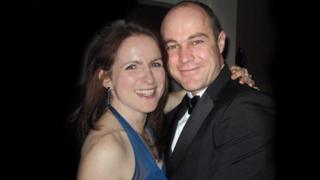 The wife of an Army sergeant who survived a 4,000ft fall after her husband allegedly tampered with her parachute was among the UK's top parachutists, a court has heard.
Victoria Cilliers, 40, suffered multiple serious injuries at Netheravon Airfield, Wiltshire, on April 5, 2015.
Emile Cilliers, 37, denies attempting to murder her.
Winchester Crown Court heard Mrs Cilliers has completed more than 2,600 jumps.
Prosecutors allege her ex-husband sabotaged both her main and reserve parachute by removing components.
'Massive entanglement'
Mark Bayada, chief instructor of the Army Parachute Association at Netheravon, told the court Mrs Cilliers was "in the top per cent of competency in the country".
He told jurors two vital components, known as slinks, were missing from Mrs Cillier's reserve chute.
It is "almost impossible", he said, for the "extremely strong" components to come off by mistake.
Mr Bayada said Mrs Cillier's main parachute was "distorted, rotated and bunched up".
He said the parachute's lines were "massively entangled".
It was "highly unlikely", he said, that user error "would result in a malfunction with that much entanglement".
The only "innocent explanation" for the missing slinks, he said, was that medics had cut them away.
But upon checking, he said, the only thing at the scene which first aiders had cut was Mrs Cilliers' goggles strap.
Mr Bayada attributed Mrs Cilliers' survival to the relatively low height of her jump.
Its "sub terminal" nature meant she had not reached full speed, he said.
He also said her small size and "exceptionally soft" field had probably contributed to her survival too.
Prosecutors alleged Mr Cilliers wanted to leave his wife for a lover he had met on Tinder.
Alongside the allegation he tampered with his wife's parachutes, Mr Cilliers is also accused of deliberately causing a gas leak in the family home while he stayed away.
He denies two counts of attempted murder.
Mr Cilliers, who is based at the Royal Army Physical Training Corps in Aldershot, Hampshire, is also accused of a third charge of damaging a gas valve at their home in Amesbury, Wiltshire.
The trial will resume on Friday.