Bronze pig sculpture stolen from Wiltshire pork pie town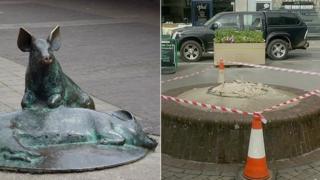 A bronze pig sculpture put up in honour of a Wiltshire town's pork pie making heritage has been stolen.
The statue of two pigs was erected in Calne town centre in the 1970s, to commemorate the Harris pork factory.
But on Monday, residents took to Facebook posting that a "hamburglar" had ripped the "Calne pigs" from their plinth in Phelps Parade.
The town council said CCTV footage of the pigs being taken had been passed to the police, and was being reviewed.
The bronze statue, which is owned by Calne Town Council, was created by sculptor Richard Cowdy.
Wiltshire Police said it believes the pigs were taken sometime between Sunday evening and the early hours of Monday.
PCSO Mark Cook, from Calne Community Policing Team, said he was "deeply saddened" by the theft.
"The statue has been an integral part of the history and daily life of the people of Calne," he said.
"We are working closely with Calne Town Council CCTV to trace the persons responsible for this act."
'Telling porkies'
Jordan Butler, from the town council, said "people will miss it".
"Hopefully it won't be melted down because it really is a big feature in Calne and a big part of our history," he added.
Meanwhile, a post about the theft on Facebook group Shout Out Calne attracted 200 comments in an hour - with many unable to resist a pig-based pun.
Ashley Wicks posted that thieves had "tried stealing them the other night but they were ham-pered".
Eloise Robinson added that when the culprits were caught she hoped they "won't be telling porkies", while Matthew Parke simply blamed the "hamburglar".