Bristol hospital 'neglect' contributed to death of Corsham man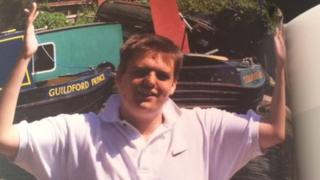 Neglect and "gross failures" by medical staff contributed to the death of a vulnerable hospital patient with complex needs, a coroner has ruled.
Nicholas Jones from Corsham, Wiltshire, spent 27 days in Bristol's Southmead Hospital after being admitted with a suspected ruptured kidney tumour.
An inquest heard doctors failed to notice his deteriorating health and he died after his airway became blocked.
North Bristol NHS Trust said it accepted the coroner's ruling.
Dr Peter Harrowing recorded a narrative verdict at Flax Bourton Coroner's Court.
Mr Jones had been diagnosed with autism at the age of three and also suffered from epilepsy and tuberous sclerosis, the inquest heard.
His family described him as a vulnerable man with a severe learning disability who was unable to communicate when he was in pain and distress.
Mr Jones attended Southmead Hospital on 21 November 2014 and was admitted to the intensive treatment unit where his particular needs could be catered for.
However despite his family's concerns, he was later moved out of the unit to a urology ward.
Shortly after he underwent surgery for a ruptured angiomyolipoma on his right kidney, Mr Jones contracted septicaemia and his condition deteriorated.
Dr Harrowing said Mr Jones died from respiratory failure and cardiac arrest on 17 December 2014 as a result of a mucus plug which obstructed his airway.
As the formation of the plug was not recognised earlier, Dr Harrowing concluded that Mr Jones's death was contributed to by neglect.
Dr Harrowing said the failure to conduct hourly observations on Mr Jones also amounted to a "gross failure" in nursing care.
The coroner added he planned to report Rogel Bolivar, a senior nurse on the urology ward, to the Nursing & Midwifery Council.
He said Mr Bolivar failed to act with the "necessary honesty and integrity as required of a registered nurse in the UK".
'Grave concerns'
Mr Jones' parents Sue and David said their son died "in the most tragic and appalling circumstances" because staff did not understand his "complex needs".
During his treatment at Southmead Hospital they said they "voiced grave concerns" about the care he was receiving but said staff viewed them as a "nuisance".
They added: "We welcome the coroner's conclusion as we have always believed things could have been different for Nick had he been given the care needed for someone as vulnerable as him."
North Bristol NHS Trust said it acknowledged the care Mr Jones received "did not meet the standard of care that we expect to provide for all patients and particularly those with a learning disability".
The trust said it had since "made changes to practices and processes on the ward to safeguard against incidents of this type".