Swindon council to drop £350m Kimmerfields deal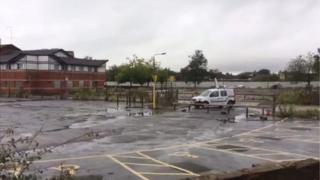 A £350m contract to redevelop a large piece of land in Swindon town centre is to be cancelled by the borough council.
The decision has been announced by council leaders who say the pace of work is too slow, having signed the deal with developers Muse in 2008.
The Kimmerfields site was meant to be turned into offices, homes, restaurants and a new bus station but remains mostly derelict.
The BBC has approached the developer Muse for comment.
'Spectacular u-turn'
The deal was meant to bring £350m worth of private investment into the town.
Cabinet member for regeneration, Conservative Garry Perkins, said work had "slowed down" in the past few years.
"There've been various legal reasons, particularly the land around the Tri-Centre but now that has been completed, discussions with Muse has indicated that it's not going to move forward as much as we would like," he said.
A cabinet meeting was held in secret on Wednesday due to the commercial sensitivities of the contract.
The decision now paves the way for a new developer to be secured but the legal costs of cancelling the deal are not known.
The Labour group had been calling for the council to ditch the deal.
Jane Milner-Barry, the spokeswoman for Town Centre Regeneration, said: "This is another spectacular u-turn from the Conservative cabinet, and represents an end to 10 years of failure to regenerate our town centre.
"All the talk of £350m of investment in the town centre was always a load of nonsense and now it has been shown to be."
Once the decision goes through the scrutiny committee on 11 September, council lawyers will then be able to begin negotiations to end the deal.