Revellers celebrate 10th Swindon and Wiltshire Pride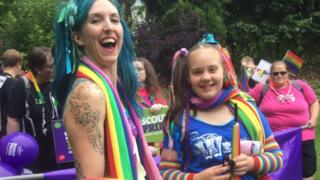 Swindon and Wiltshire's Pride Festival is celebrating its 10th anniversary.
This year's theme is Celebrating Freedom and Wiltshire Police is one of the event's main sponsors.
Jo Sharpe, from Pride, said without police support the event "wouldn't happen" and it "showed their commitment to being a truly diverse organisation".
Chief Constable Mike Veale said: "This is not political correctness, there's a strong business case for our commitment to reducing bigotry and ignorance."
This year's parade includes a 40-mile Ride for Pride, with people cycling around Swindon and through the Wiltshire countryside.
Entertainment includes previous X-Factor winner Sam Bailey, pop and rock band Fizz and singer Misty Lee.
The event is taking place at Old Town gardens.