McLaren supercar destroyed in crash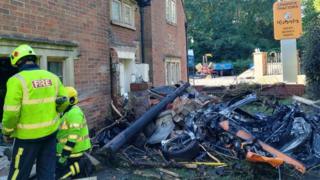 A McLaren supercar was reduced to a twisted, burned-out wreck after it struck a building and burst into flames.
The driver and passenger of the 570S, which sell for around £143,000, escaped with minor injuries following the crash at Heywood, near Trowbridge, Wiltshire.
The fire service was called to Westbury Road just before 06:30 BST on Sunday.
Crews found the occupants had made it out of the burning sports car, which was stuck beneath a collapsed wall.
Images taken by Dorset and Wiltshire Fire and Rescue show small fragments of the car's distinctive orange paintwork are still visible.
It is not known what speed the McLaren had been travelling at prior to the crash.
Damien Bence, from the fire service, said it was "absolutely amazing" the car's occupants walked away from the scene.
"Prior to hitting the building it snapped an electric pole in half, and forced the top half of the pole through the window of the house," he said.
"We were confronted with a live electrical cable which was strewn across the highway so crews had to negotiate their way through part of a wood in order to get to the incident."
The 563hp super sports car has twin-turbo 3.8-litre V8 engine and can accelerate from 0-62mph (100km/h) in just 3.2 seconds.
Get news from the BBC in your inbox, each weekday morning