Major engine failure caused plane crash near Wiltshire airfield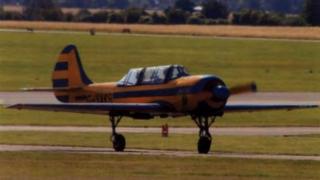 A fatal plane crash was caused by engine failure, and suitable helmets or harnesses may have reduced injuries, a report has concluded.
The flight school YAK-52 crashed while making a forced landing in Wiltshire, killing one pilot and injuring another.
Other factors were a lack of safety checks and allowing a pilot unfamiliar with the Yak-52 to attempt the landing.
The flight school failed to notice "an unprofessional and deteriorating situation", the report said.
The Empire Test Pilots' School (ETPS) is an approved training organisation certified to train test pilots to civil standards.
The plane was being flown by one of the ETPS course tutors, an RAF test pilot, to build up his experience and development, under the command of a civilian pilot qualified in this type of aircraft.
The inquiry panel was unable to conclude "who, if anyone, was controlling the aircraft when it struck the ground".
Alexandre Jay Parr, 40, was a highly experienced test pilot but was not qualified to carry out a forced landing with this type of plane.
Recurring malfunctions
The Yak is an eastern European plane, so its cockpit design and operation differs from western style cockpits, the report said.
The Defence Safety Authority, which published the report, said the fatal accident involved a range of issues including, "the risk of sub-contracting, inadequate supervision, lack of risk assessment, poor reporting and not learning lessons from the past".
The report highlighted the lack of documentation of flights being made and said there had been recurring malfunctions of the aircraft, but it continued to be used.
The fact that the aircraft was also procured using a series of sub-contractors meant that safety checks were missed, as no-one properly scrutinised the aircraft's airworthiness documents.
'Significant injuries'
Speaking of the engine failure, the report said: "The cause of the engine problem currently remains unknown and may continue to be so despite an extensive technical investigation by the Air Accident Investigation Branch."
However, it added, that "engine problems are not unusual in the YAK-52, which has been involved in 11 fatalities in the UK to date".
It said: "Whilst the panel was unable to conclude that the FSP (front seat pilot) would have survived had he been restrained, the panel was able to conclude that the failure of the (PIC) pilot in command's harness straps led to significant injuries that otherwise wouldn't have occurred.
"It is possible that the wearing of a suitable helmet would have mitigated injuries sustained by both of the accident crew."
Update 6 July 2017: This report has been updated to clarify the circumstances around who was in control of the plane at the time.