'High number' of Bath Half runners causes medal shortfall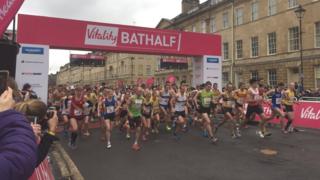 Hundreds of runners have been left without medals due to the high number of people crossing the finishing line at the Bath half marathon.
A total of 248 entrants failed to be given a medal and t-shirt for finishing the race.
Bath Half apologised and said the shortfall was because it did not expect so many to finish. Those who missed out will receive a medal at a later date.
Some runners have taken to social media to vent their disappointment.
The race normally sells 15,000 tickets, but 3,000 normally drop out of the race due to injury, or fail to turn up on the day.
Organisers normally buy in 12,500 medals but 12,748 finished this year's event - more than expected.
'Really sorry'
One runner tweeted: "How do you run out of medals? - were u not expecting this many people?! (Surely you knew how many entered!!)"
Mr Jones, wrote: "Not enough medals for the finishers - shame on you."
Belinda West Gallery tweeted: "bath half marathon Appalled that you have run out of medals. Very demoralising."
A race spokeswoman said runner's details were taken as they crossed the finishing line so no-one would miss out on getting a medal.
They added they would be buying in more to send out but first had to compile all the runners' details which could take a few days.
A statement on the website said: "Each year, we get 15,000 entrants to the Bath Half, and normally 3,000 who have entered do not run the race.
"We order 12,500 t-shirts and medals - the most finishers we have ever had is 12,100 people - which normally gives more than enough slack.
"This year, we have had an astonishing 12,748 finishers and unfortunately therefore there are a small number of people who will not have had a t-shirt and medal at the end of the race.
"We're really sorry for any disappointment that this causes and hope this hasn't detracted from your enjoyment of the day."
Sunday's race was won by UK athlete Ben Fish with a time of 01:05:16 and the fastest female runner was Ruth Barnes.
It was the first time in several years the event did not attract any elite African entrants. Organisers believe it was because better prize money was being offered elsewhere in Europe.
Celebrities who competed in the 36th annual race included actor Will Thorp, broadcaster Sophie Raworth and retired rugby player Lewis Moody MBE.