Martial arts club presents memorial cup to honour teenager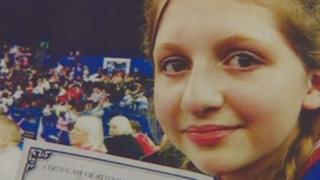 A martial arts club has presented a memorial cup in honour of one of their teenage black belt members, who died suddenly a week ago.
Hannah Cubin, 14, stopped breathing at a friend's sleepover and despite rapid medical help she could not be revived. Her cause of death is not yet known.
Her mother, Dawn, said: "Taekwondo was the one subject she really gave 100% on every single occasion she attended."
Her family has raised £40,000 for the Wiltshire Air Ambulance since she died.
'Infectious personality'
"She was awarded her black belt, first dan certification on 16 October, so she was destined to do very well," said Mrs Cubin.
"We only found out since Hannah passed that she was actually already in the eyes of the UK national coach.
"She always wanted to be famous. This is the wrong way to be famous but this (fundraising effort) is providing some good."
Wiltshire Air Ambulance's efforts to resuscitate Hannah inspired her parents to raise money for the charity as a way of coping with her death last Saturday.
The cup named after Hannah was presented at the Malmesbury Taekwondo School's fancy dress competition held annually just before Christmas.
Senior instructor Jackie Tombling said: "Hannah was a very very bubbly young lady with an infectious personality.
"She would come training from a very young age and as she got older and her skills developed, she became a beautiful young lady.
"She would turn up in a full face of make up, red lipstick, and we would all call her Max Factor.
"She would even after a sparring session, end the lesson with a full face of make up."
Saturday's event also raised further funds for the charity.