Christmas lights row as neighbour decries 'tacky' icicles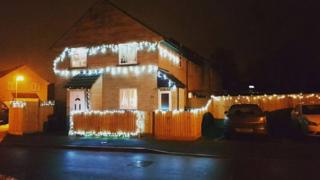 When Alice Hughes attached twinkling lights to her home she thought she would be injecting the street with festive cheer - but instead was accused of bringing down the neighbourhood.
Ms Hughes put up the rows of icicles on her home in the appropriately named Light Close in Corsham, Wiltshire.
Later she received an anonymous note claiming the "tacky" lights had made the street "very common".
But Ms Hughes thinks they look amazing - so she went out and bought some more.
For more stories about Christmas lights, trees and decorations follow us on Pinterest
The row sparked a number of comments on BBC Wiltshire's Facebook page - with many people struggling to see the problem.
Mo Moncrieff-Jury said: "Heard about this on the radio and I was expecting a garden full of blow-up santas, reindeer and flashing multi-coloured lights at least - LOL."
Adrian Smith added: "The letter says nothing about the lights but everything about the author. Perhaps a party at the house where we can all say how nice it looks?"
Ms Hughes put up the lights with the help of neighbour Jordan Franklin.
They feature two rows of icicles along the top of the house and some around the fences, "basically covering the front of the house".
"We've gone through all the time and effort trying to be Christmassy for someone to attempt to knock us down," said Ms Hughes.
"But at the same time I thought it was quite funny someone had gone to all that effort of posting the letter to then do it anonymously," Ms Franklin added.
"All it's done is spurred us on and made us go out and buy more lights and they went straight up in the dark."