Swindon: Opinions split over 'failing schools' claim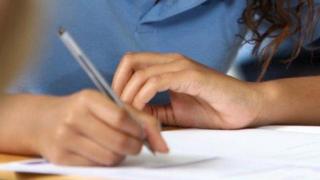 Parents and teachers have reacted strongly to an official letter saying children in Swindon are being failed "at every level" by the education on offer in their area.
Feelings are running high but opinion is divided about the comments made by Bradley Simmons, Ofsted's regional director for the South East, in a letter to Swindon Borough Council.
In the letter, Mr Simmons called for immediate action to improve the the schools in the town, which he said were "cause for serious concern".
Christel Stevens said she and her husband were teachers in other boroughs and had just transferred their son out of a primary school in Swindon to one elsewhere in Wiltshire after a "poor experience".
She added: "He is thriving now, despite Reception year being wasted."
And parent James Garfield labelled one senior school as an "utter disgrace".
He said: "When challenged as to why the school did not set homework, I was informed that the teacher in question did not have homework when he was at school and he did all right - hardly the point.
"I believe the reason the schools in north Swindon in particular are so bad is that the head teachers are prepared to play social experiments with our children, such as the no-homework policy."
However, Sarah-Kate Tonkin, who has children at primary and secondary schools in Swindon, completely disagreed with the Ofsted findings.
"If you want to talk about measurable academic achievements, one of my older children has been in national finals for maths and Stem [science, technology, engineering and maths] this year," she said.
"That is not a sign of failing pupils as far as I can see."
Mrs Tonkin said one of her daughters had gone to a primary school that had transformed her from a shy child to one who could stand up make a speech or perform at an audition.
"This primary school, which my youngest still attends, has taught them all the values of kindness, resilience, leadership - all immeasurable as far as I can see, but they are the skills that will take them on in life," she said.
"I am proud of my kids - but they are who they are partly because of the teachers that they encounter every day."
Ella March, who left secondary school in Swindon two years ago, and is now a university student, said she was not surprised by the content of the Ofsted letter because her secondary school had not been good at dealing with bad behaviour among students.
To make matters worse, she said, many of the teachers she had thought were the most enthusiastic had since left the school because there was so little advantage to teaching there.
But Callum Love, a sixth-form pupil at an academy school in Swindon, said his school had made progress in its results in every one of the past five years.
"My school is in the top 20% of progress last year nationally, which is the second best progress in the town," he said.
Mike Welsh, who is a primary school head teacher in Swindon, challenged Mr Simmons "to come and see how well our primary school children are being taught".
He said: "We do not have our heads in the sand and appreciate, as do all schools, that we are in a constant state of improvement.
Mr Welsh, who has been a head teacher for 30 years, said: "Do not run our children down, as they have worked very hard.
"In Swindon primaries, we have excellent leadership, teachers and support staff who dedicate themselves to high quality teaching."
He said Mr Simmons's data analysis was "clearly inadequate".
In one case Ofsted, had simply looked at the first set of results of a new test for pupils finishing primary school in 2016, Mr Welsh said.
But both Russell Hobby, general secretary of school leaders' union NAHT, and former Education Secretary Nicky Morgan had said that because the test was new, any comparisons to previous years would be meaningless.
By Annie Flury, UGC and Social News Team