Jason Edworthy fined for illegal teeth whitening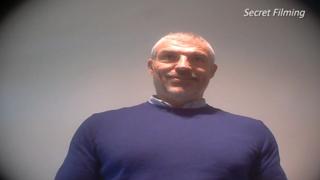 A man has been fined for carrying out illegal teeth whitening, less than three years after being prosecuted for the same offence.
Jason Edworthy used chlorine dioxide to whiten a woman's teeth at a clinic in Royal Wootton Bassett in February.
She became suspicious after seeing an undercover report about him on BBC Inside Out West, and complained to the General Dental Council (GDC).
Edworthy pleaded guilty and was fined £2,000 at Swindon Magistrates' Court.
The 45-year-old from Saltwood Avenue, Milton Keynes, was also ordered to pay costs of £1,280 to the GDC.
A GDC spokeswoman said: "We are pleased that this fine was imposed, and hope that this deters Mr Edworthy from committing further offences."
In 2014 he was fined £250 for unlawfully whitening teeth in Hemel Hempstead and Greater London, contrary to the 1984 Dentists Act.
The GDC stipulates that only regulated dentists, dental hygienists and therapists are qualified to carry out tooth whitening.
The British Dental Association advises that chlorine dioxide-based whitening products should not be used due to "serious concerns" about safety.