Salisbury teacher struck off after watching porn during lessons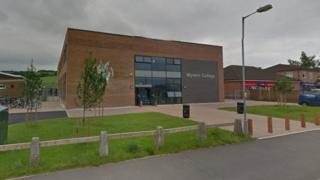 A teacher who used school computers to watch hardcore pornography during lessons has been banned from the profession.
Simon Adrian Smith, 61, accessed inappropriate material with titles referring to "swingers" and "private school nudes", a panel heard.
He was dismissed from Wyvern College, Salisbury, last October after a 37-year career.
Mr Smith admitted unacceptable professional conduct.
Allegations emerged in June 2015 Mr Smith had viewed pornography using school equipment.
Police were contacted the following month and, after a disciplinary meeting, he was dismissed.
A National College of Teaching and Leadership panel concluded Mr Smith had brought the profession into disrepute.
Although watching this type of pornography was not illegal in itself, the panel said, there was a strong public interest consideration when it came to protecting pupils.
As a result, it said, Mr Smith's actions needed to be treated with the "utmost seriousness" or public confidence in teaching would be weakened.
"Whilst Mr Smith displays genuine remorse for his actions, this derives from being caught, rather than from an appreciation that what he did was wrong and potentially damaging to the pupils under his care."
In his defence, Mr Smith stated he had been "seriously depressed and felt surplus to requirements in his role, humiliated, belittled and let down".
He also referred to his good/outstanding Ofsted reviews in the past.
The panel ruled he could not appeal against his ban until 2018.
Wyvern College is based in Laverstock, north of Salisbury. It is a Church of England school for boys aged 11 to 16 years old.
Head teacher, Paul German, said. "We take safeguarding very seriously and constantly work with our partners to ensure it is at the heart of everything we do.
"In this case, I would like to assure parents that no pupils were put at risk."