Fake refugee camp built on Salisbury Plain to train troops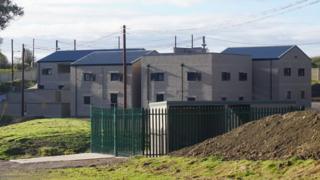 A fake refugee camp costing £2.4m has been erected on Salisbury Plain, to better prepare troops for deployment.
The complex of 11 building shells or "stone tents" has been built at the New Zealand Farm Camp in Wiltshire, to replicate a terrorist or refugee camp.
It is the "biggest single investment" in a training camp in the area since Copehill Down village in the 1980s.
Maj Gen Richard Stanford, said: "Facilities such as this are critical to enabling success on operations."
To make way for the new "modern, multi-purpose training camp", a dozen buildings had to be demolished at an old World War Two training camp.
Along with street lighting, and a new public address system, tracks around the old camp also had to be upgraded to support warrior armoured fighting vehicles.
Gen Stanford said the investment would allow the Army to "prepare in a realistic and challenging environment".
Brig Neil Dalton, from the Defence Infrastructure Organisation (DIO), said the site's "diverse training features" provided a "broad variety of challenging exercise scenarios".
Clive Paxman, from Landmarc Support Services, said from the outset it had worked closely with the facility's "end users".
"The buildings have been developed so that they provide a realistic, challenging physical training environment through strategically arranged tunnels and overhead gantries to simulate different risks and threats."
In 2012, the DIO was given planning permission to install 100 shipping containers on Salisbury Plain to replicate an Afghan village.
Copehill Down was built in 1989 as a mock village for troops to hone their skills at "FIBUA" - fighting in built-up areas.