Tonnes of straw destroyed in barn fire in Wiltshire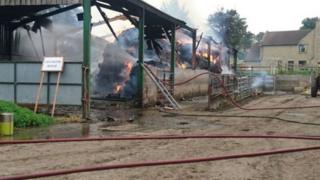 Firefighters have brought a barn fire under control after it burned for 22 hours.
About a hundred tonnes of straw was destroyed in the blaze at a farm in Corsley, near Warminster.
The fire broke out on Saturday morning and up to 20 firefighters worked through the night to contain the blaze.
The cause of the fire is not yet known and crews will return later to check the remains of the barn for hotspots.