Bake Off set recreated for hamsters by pet owner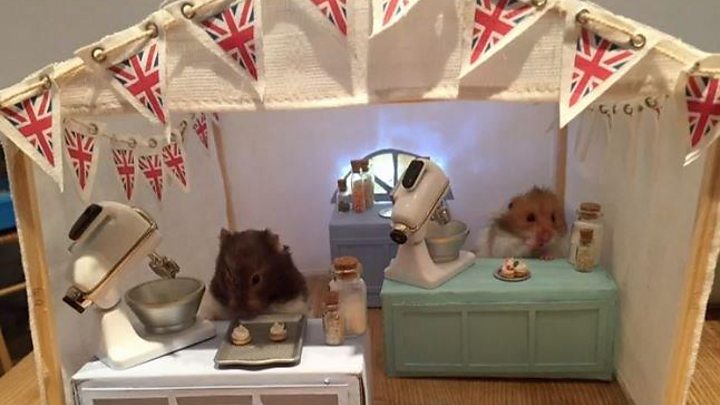 Up to 20 tiny sets, including the Great British Bake Off (GBBO) tent, have been made by a pet owner for her hamsters.
Beverly Borrill, from Devizes in Wiltshire, has spent the last 18 months constructing miniature snooker tables, ballet studios, swimming pools and saunas for her six Syrian hamsters.
The animals have been snapped picnicking, doing ballet, mowing the lawn and relaxing in front of the TV.
Mrs Borrill said her next project would be the set of Strictly Come Dancing.
Mrs Borrill, who bought the first hamster for her daughter about three years ago, said it was a school project that launched the pets on their "adventures".
"We made a hot air balloon using paper mache and it just took on a life of its own," she said.
"And of course once Bake Off was on - we just had to do that."
Using cardboard boxes and novelty kitchen timers, Mrs Borrill said it took about two days to build the inside of the Bake Off tent - which was shown on GBBO: An Extra Slice on Friday.
She said she was "very, very chuffed" and "very, very proud of my little furry friends."
Having recreated 20 adventures including I'm a Hamster get me out of here, Dr Who and Ham Kong, Mrs Borrill said she now had her heart set on another TV favourite.
"Strictly Come Dancing has to be next," she said.
"They've had costumes on before and we've already got the glitter ball, so we just need to get the sequins sewn on."