Death crash pair were brother and sister from Salisbury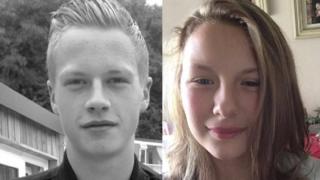 A 17-year-old driver and a 12-year-old girl who died in a crash in Wiltshire were brother and sister, it has emerged.
Jackson Watters and Millie Crouch, who were both from Salisbury, died in the accident on the A36 at Steeple Langford on Monday.
The Ford Fiesta being driven by the teenager was involved in a collision with a van, police said.
The mother of the victims, Salli Grant, said her "world had ended".
She said her son was a "gorgeous, handsome young man" who was "gentle and caring".
Ms Grant described her daughter as "stunningly beautiful" and said she was "mischievous, cheeky, a comic genius with a love for singing".
Jackson's father, Steve Watters, said his son was "the sweetest, politest, caring, loving young man who had dreams for the future".
The van involved in the crash was being driven by a man from Southampton, who suffered minor injuries. Millie was a passenger in the Ford Fiesta.
A police investigation into the circumstances of the collision is under way.