Great Western Hospital opens bereavement room stillborn parents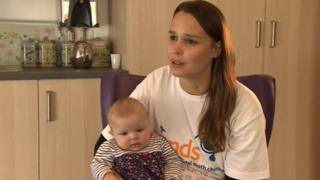 A bereavement suite for the parents of stillborn children has opened at the Great Western Hospital in Wiltshire.
Cathy Milburn set up the Swindon Stillbirth and Neonatal Death Society (Sands) after losing her baby son Adam eight years ago.
Ms Milburn said a room for people to have "private time with their baby" would make "a world of difference".
She said: "A parent's experience at hospital can have a huge impact on the way they grieve later".
Swindon Sands raised £35,000 towards the £100,000, suite.
Natasha Wilson, who lost her daughter Rebecca in March 2015, said: "It was devastating and to look back on that day still haunts me, but the hospital were really helpful, comforting and very sensitive.
"The suite is definitely going to make a difference to parents who are trying to spend precious time with their babies."
Conservative MPs Antoinette Sandbach and Will Quince hosted a Twitter session on Monday as Baby Loss Awareness Week got under way.
Both know the pain and trauma of losing a baby and are calling for more support for people affected by stillbirth or neonatal death.