Averies Recycling brothers guilty over two-month tip fire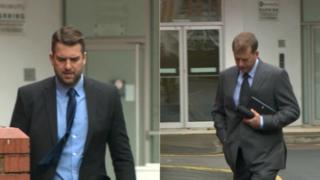 Two men whose waste site burned for two months when 3,000 tonnes of rubbish caught fire have admitted breaching environmental laws.
The blaze at Averies Recycling Ltd in Swindon cost an estimated £500,000 to put out.
Brothers Lee and David Averies previously denied charges relating to the fire at the Marshgate site in 2014.
Both admitted two counts at Swindon Crown Court of breaching the Environmental Protection Act.
Two other regulatory offences will remain on file. They will be sentenced next month.
The Environment Agency revoked the Averies' licence as a waste carrier in November 2014 and put the cost of putting the fire out at half a million pounds.
Ian Jeary, from Dorset and Wiltshire Fire and Rescue Service, said its continual presence at the site made it the longest in the brigade's history.
"It certainly tied up a lot of resources for those days... it was a real issue for the people and businesses of Swindon."
The pair pleaded guilty to keeping and disposing of controlled waste in a manner likely to cause pollution to the environment or harm to human health. They also admitted the sites were poorly managed with insufficient infrastructure.
The charges related to the Marshgate site and another - Swindon Skips Ltd, in Cheyney Manor - which have have since gone into administration.