Charity appeal for children's birthday cake bakers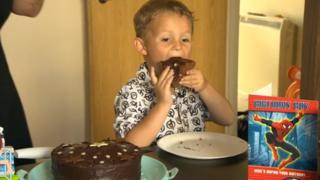 A charity which makes free birthday cakes for children is appealing for more bakers.
Free Cakes for Kids, based in Swindon, started two years ago and so far 34 people have made 178 cakes for children who might otherwise miss out.
The charity gets referrals from a women's refuge, the local NSPCC, council departments and schools who "identify families we can help".
It said: "As more people hear about us, we need more bakers to meet demand."
Laura Cain, from Free Cakes for Kids, said the service was "one less thing to worry about" for people in need of "that bit of extra support".
She said: "With the women's refuge, it could be somebody who's fled from an abusive relationship or a situation that they didn't want to be in that has literally left them with the clothes they have on their back.
"And it turns out, it's their child's birthday the following week, so the refuge will give us a call and ask us whether we can help out.
Daniel's mother Bobby moved to Swindon under "difficult circumstances" just before her son's fifth birthday.
She said: "It was just one less worry for me and obviously Daniel was absolutely thrilled.
"You could see a lot of work had gone into it - the generosity is so humbling. I have no idea who made this cake."