Wiltshire artist creates unicorn sculpture from beer cans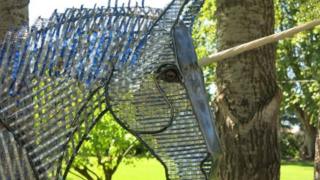 An artist with a love for recycling, has created a sculpture of a unicorn out of 150 used beer cans.
Tom Hiscocks, who is based in Pewsey, Wiltshire began using Fosters cans to create art in 2010 and his work has been sold for charity.
He said the unicorn is "the size of a large horse, at 16 hands high" and was fashioned using a pair of tin scissors.
The work is titled "Unicorn of France" and was built in England but is being displayed in Provence.
"The blue of Fosters is rather nice and different colours fade at different rates," added Mr Hiscocks.