Wilton Windmill's 'terrible' sails taken off to be fixed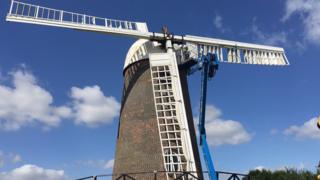 All four sails on Wiltshire's only working windmill are being removed for the first time in 40 years to be fixed.
A large crane was used to strip Wilton Windmill of its one-and-a-half tonne painted sails, which were described as being in a "terrible condition".
The windmill was built in 1821 and restored in the 1970s.
Kevin Challon, from the Wilton Windmill Society, said: "What we've done is flip the windmill around so we can pull them off - it's like picking teeth out."
The windmill near Marlborough is used for events and to teach people the traditions of milling and making flour.
"The sails haven't come off for about 40 years so we're having to use angle grinders to actually free the bolts," said Mr Challon.
"A couple of mills have actually had sails fall off - so we're doing a complete check and all four are being taken off to be completely rebuilt and restored."
The renovation is expected to take four weeks to complete, at a cost of about £25,000.