Hatts Travel bus firm bosses banned for misleading customers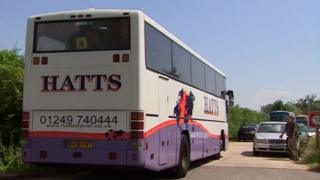 Two directors of a bus firm which went into administration have been banned for misleading customers that their holiday payments were protected.
Adrian Charles Hillier and his daughter Carly-Jo of Chippenham-based Hatts Travel have been disqualified from acting as company directors.
The Insolvency Service found the company falsely claimed through its advertising literature that payments for holidays were suitably protected.
The company folded in July 2014.
Hatts Travel ran a mixture of overseas holidays, day trips and local services across Wiltshire.
It was required under the Package Travel, Package Holiday and Package Tours Regulations 1992 to protect customer payments, but no such protection existed.
The investigation found about 380 customers who had purchased tour packages from the company were affected, and were owed a total of £176,217.
An Insolvency Service spokeswoman said: "This is a serious case in which the directors clearly breached the trust of their customers."
Adrian Hillier and Carly-Jo Hillier have been disqualified for 10 and eight years respectively of becoming involved in the promotion, formation or management of a company.