Hotel damaged in suspected arson attack in Swindon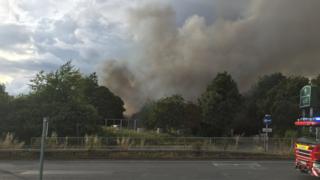 A derelict hotel in Swindon is severely damaged in a suspected arson attack in Swindon.
Crews were called to the large blaze at the empty Madison Hotel in Oxford Road at about 18:00 BST on Wednesday.
Wiltshire Police said nobody was in the building at the time.
Six children from Swindon, aged between 13 and 16, have been arrested in connection with the incident and are currently in police custody.
A spokesman said the fire caused "substantial damage" and crews had been drawn from a number of stations around the county to deal with the incident. Firefighters remain at the scene.