'Rifle' sighting at Bulford Camp not suspicious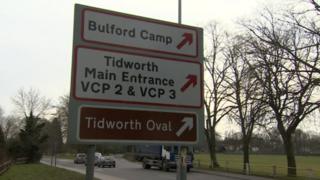 Police have confirmed that an incident involving three people reportedly seen near an Army base with a rifle is not suspicious.
Armed officers and a police helicopter were scrambled to Bulford Camp, Wiltshire, at 17:00 BST on Thursday.
The area around the barracks, on Salisbury Plain, was searched but no suspects were located at the time.
Officers have now spoken to those concerned and confirmed they were not involved in any suspicious activity.
Wiltshire Police's Vince Logue said: "With recent events, both in the UK and abroad, it is understandable we are seeing an increase in calls from members of the public reporting suspicious behaviour.
"It is only right that we fully investigate calls of this nature. Thankfully, this incident turned out to be non-suspicious."