Cavalcade of classic cars around Swindon's Magic Roundabout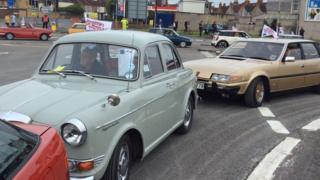 A cavalcade of 60 classic and modern cars have driven around Swindon's famous Magic Roundabout.
A procession of Minis, Rovers, Chryslers and Daimlers took part in a motorcade.
The parade formed part of the town's Swindon 175 celebrations recognising the anniversary of the construction of Brunel's railway works in 1841.
It was the beginning of the town's industrial expansion which grew to encompass car manufacturing.
All of the vehicles in the The Magic Wheels of Pressed Steel cavalcade had their body panels pressed at the town's former Pressed Steel site, now a BMW MINI plant, which celebrates its 60th anniversary this year.
Swindon's Magic Roundabout, located near the County Ground football stadium, is one the country's most unique junctions.
It consists of five mini-roundabouts arranged around a sixth central, anti-clockwise roundabout.
It was designed as an experiment by traffic engineers in the 1970s - to improve the flow of traffic - and thousands of cars pass through it every day.
After the motorcade, the cars travelled in convoy to nearby Lydiard Park for a static public display.