Peregrine falcon chick rescued after plummeting 224ft from Salisbury Cathedral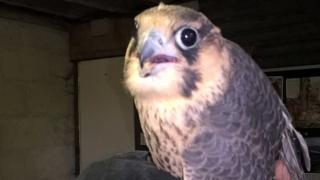 A peregrine falcon chick has been rescued after plummeting 224ft (68m) from the tower at Salisbury Cathedral.
The young male, Raphael, is feathered and ready to fly but on what is thought to be its first test flight it was caught in high winds and "carried off".
Found floundering on the ground, the bird was rescued by wildlife charity Creatures in Crisis and held overnight.
Anya Wicikowski, from the RSPB, said: "I suspect he'll take a couple of days rest before trying again."
The young fledgling was spotted making its "perilous descent" from the South side of the Tower by a member of the public on Tuesday night.
Kevin Drew, from Creatures in Crisis, was called in to rescue the bird when it became pinned against the walls of the cathedral in high winds.
"Every time I approached the bird it would try to fly away but kept crashing against the cathedral wall," he said.
Worried it would hurt itself, the chick was taken in and held overnight at the rescue centre.
The following day, the young falcon was taken back up the 332 steps to its nest and reunited with its sister Aveline.
"It was probably his first test flight and the wind must have caught him and carried him over to the North side," said Ms Wicikowski.
"As soon as we released him he ran over to his sister and snuggled up in the corner with her."
The Wiltshire cathedral is "the ancestral home of the 'urban' peregrine" with records dating from the mid-1800s, according to the RSPB.
But up until 2014, when three falcon chicks successfully fledged from a newly installed nest box, there had been no recordings since 1953.