West Coast steam train 'near miss' firm fined £200k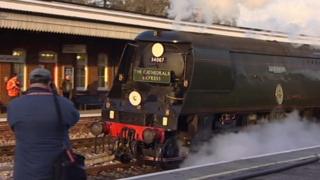 A steam train driver has been given a suspended sentence and his employer fined £200,000 over a near miss at a busy main line railway junction.
West Coast Railway and the driver pleaded guilty after safety equipment was bypassed and a locomotive passed a signal at danger in Wiltshire in 2015.
Legal proceedings were brought by the Office of Rail and Road (ORR) following the incident at Royal Wootton Bassett.
The driver received a four-month prison sentence, suspended for 18 months.
He was also ordered to do 80 hours of unpaid work. The company was fined £200,000 and ordered to pay costs of £64,000.
'Ineffective management'
The Tangmere locomotive was being operated as a charter service by the West Coast Railway Company (WCRC) between Bristol and Southall.
On 7 March 2015 the locomotive stopped across a busy junction about a minute after a high-speed train had passed over the Great Western main line junction.
An ORR investigation found the train's driver had directed a colleague to turn off an essential safety system, designed to automatically apply an emergency brake.
Investigators said WCRC had not implemented "appropriate procedures, training or monitoring of staff" to stop intentional misuse of protection and warning systems equipment.
Both WCRC - which is based in Carnforth, Lancashire - and the train driver were charged under the Health and Safety at Work Act.
Ian Prosser, HM Chief Inspector of Railways at ORR, said: "WCRC's ineffective management led to their train driver deliberately misusing a key safety system on a train travelling between Bristol and Southall.
"This prosecution has led to WCRC taking significant steps to improve its management of safety, with support from the regulator."