Wiltshire Police criticised over Taser use in cells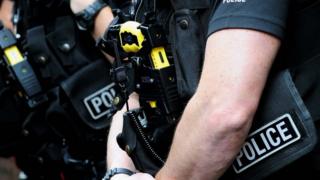 Concerns have been raised about the use of force in Wiltshire police cells.
Her Majesty's Inspectorate of Constabulary (HMIC) carried out an unannounced inspection of cells in Swindon and Melksham in December.
The report said the use of force lacked "oversight and governance" and the use of Tasers and leg restraints was not "proportionate to the threat posed".
Wiltshire Police said it was aware of the issues and was "already putting measures in place to tackle them".
The HMIC report found the county's police custody suites had "improved across most areas" since the first inspection in 2009.
But inspectors Martin Lomas and Dru Sharpling said they were concerned that the use of Tasers was "disproportionate to the level of threat" and there was "no policy or governance on their use".
"Our expectation is that Taser should only be used in exceptional circumstances," they said.
"We encountered officers removing their Tasers and pointing them at the detainee, more than we would expect to see in a controlled environment."
The inspectors also said they found the use of leg restraints was more common than they would expect and the "recording and monitoring" of the use of force was "poor and required immediate attention".
Supt Adrian Burt, from Wiltshire Police, said it welcomed the report and was making "every effort" to record any use of force.
"Police staff and officers sometimes find themselves in difficult situations where they have no option but to use some level of force to detain a suspect and protect themselves," he said.
In 2014, PC Lee Birch used a Taser on a naked man in a cell at Melksham police station after the detainee threw his underpants in his face.
The officer was cleared of assault.