Six arrested at Stonehenge for 'climbing on stones'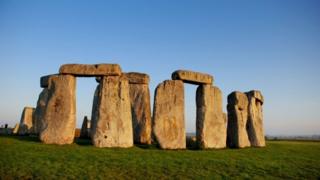 Six people have been arrested after a protest at Stonehenge led to some people climbing on top of the stones.
Four men and two women were arrested on suspicion of destroying or damaging the monument early on Wednesday.
It is believed they were protesting at the introduction of an alcohol ban and parking charges for Summer Solstice.
English Heritage said grass in the centre of the stone circle was doused with paraffin and set alight when a 14-strong group entered the stone circle.
Kate Davies, general manager at Stonehenge, said: "How can people who claim to honour the stones deliberately disrespect and damage them like this?"