Cyclist who broke his neck hunts for Swindon Good Samaritan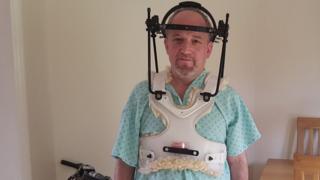 A mountain biker left lucky to be alive after breaking his neck on a Wiltshire trail is searching for the Good Samaritan who helped him.
Michael Brown was cycling in West Woods near Marlborough with his two sons in March when he fell on his head, attempting a "gap jump".
As he lay in agony and clutching his neck with both hands, a man called Mike from Swindon came to his rescue.
Mr Brown said: "He raised the alarm and I want to thank him."
An experienced mountain biker, Mr Brown had attempted a jump which he said had not looked "unduly dangerous" along the woodland trail.
"I'm not sure exactly what happened," he said. "The bike came over the back of me and my head went all the way back on to my shoulder blades and I broke my neck.
"I remember seeing the ground coming towards me and that was really it and I woke up five minutes later."
'Hangman's fracture'
Lying on his back clutching his neck in agony with his sons telling him to "stay still" and not move, Mr Brown said he thought he was paralysed.
But with "no signal in the forest" it was a man called Mike - a fellow mountain biker - who rushed to the nearest farm, called emergency services and directed them to the spot "deep inside the woods".
"I broke my neck in three places. I had a severe fracture in a vertebra which is called a hangman's fracture because it's the vertebra which breaks when they used to hang people," he said.
"So I'm quite lucky to be neither dead or paralysed.
"But I never actually got to see Mike and I never got to say say thank you for raising the alarm, taking my boys home and staying with me."