Wiltshire Police merger opposed by David Cameron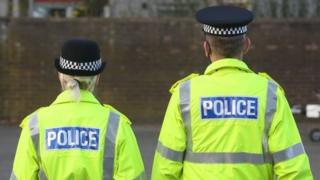 Prime Minister David Cameron has urged Wiltshire Police not to merge with another force to save money.
In a BBC Wiltshire interview Mr Cameron also ruled out changes to the police funding formula which would benefit rural forces.
He said: "I don't particularly want to see amalgamations, I think people in Wiltshire welcome a local force."
But all Wiltshire's police and crime commissioner candidates claim reworking the funding formula is a priority.
'No final decisions'
Wiltshire Police has a budget of £100m, having seen cuts of 30% since 2011.
The force receives £89.20 per head of population under the current formula, compared to a national average of £108.50 per head.
Most similar forces receive an average of £96.80 per head, with Wiltshire the third lowest funded in the country.
In November, the funding formula announcement was delayed due to errors in the Home Office statistics.
Instead, police force budgets were protected against further cuts.
During the BBC Wiltshire interview, Mr Cameron said: "I recognise there's pressures, but I would urge them to go on with their work collaborating with police in Dorset to share costs to go on providing the excellent service they have for local people.
"We are still looking at the formulas. No final decisions have been made about that, but we are protecting police from the big cash reductions that were earlier forecast."
Police and crime commissioner elections will be held in May.
In recent years, Wiltshire has increasingly been sharing resources, contracts and services with Avon & Somerset and other forces.