New Anglo-French rapid deployment force put through paces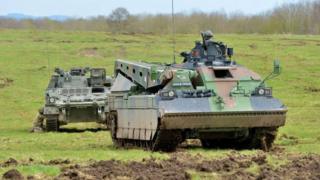 A new Anglo-French rapid deployment force has been put through its paces during a major exercise in Wiltshire.
An armoured land assault took place on Salisbury Plain, as part of the Combined UK and French Joint Expeditionary Force (CJEF).
The force will be used in conflict zones and for peace keeping, disaster relief and humanitarian work.
Exercise Griffin Strike was part of a wider UK operation involving the army, navy and air force.
The Ministry of Defence said the exercise was a "significant milestone" in the development of the joint force, which was planned in 2010.
Defence Secretary Michael Fallon and his French counterpart, Minister of Defence and Veterans Affairs, Jean-Yves Le Drian, witnessed the exercise which involved more than 5,000 troops.
Mr Fallon said the the force "will enable us to deploy rapidly with our French allies, helping to keep Britain safe while contributing to security in the world."
The two-week exercise is based at RAF St Mawgan in Newquay and involves Typhoon and Rafale jets from RAF Leeming in North Yorkshire, while UK ships HMS Ocean, Bulwark and Duncan will work off the south and west coast of England with three of their French counterparts.