Runaway Swindon bus smashes through garden wall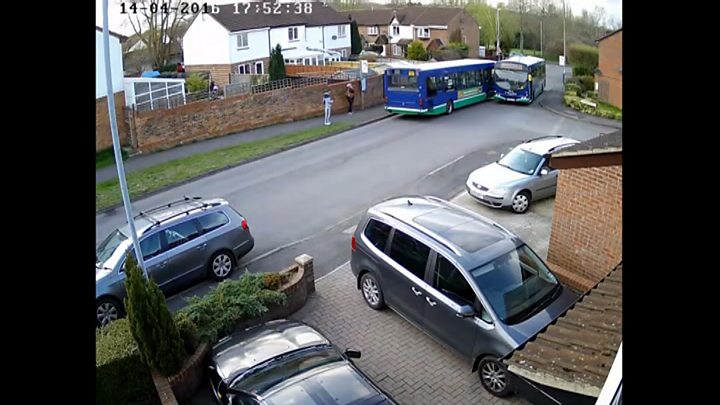 A bus carrying passengers has smashed through a garden wall in Swindon after rolling forward without its driver.
The bus had a mechanical fault and the driver exited the vehicle but had forgotten to apply the handbrake, according to the Swindon Advertiser.
Thamesdown Buses said it was in the early stages of an investigation but the handbrake issue was "of great concern to us".
No injuries were reported after the crash, Wiltshire Police said.
Residents ran out of their homes to see what had happened after hearing the crash.
'Lots of screams'
Cat Thomson said: "I was round the back of my house and I heard a big crash. We came out running and saw the bus had crashed into the wall."
Another resident, Claire Cheney, said: "It was very quick and very loud. Lots of screams.
"Lots of people ran out of their houses to make sure no-one was injured. People were in shock and it was lucky no-one was injured."
The driver involved would not be driving a bus for the firm until the investigation had been concluded, Thamesdown said.
Peter Oliver, commercial director, added: "Although we are still in the early stages of the investigation, it appears the bus was stationary at a bus stop and the driver was rectifying a small mechanical fault to the wheelchair ramp when the bus rolled forward and collided with the garden wall.
"We believe the handbrake was not on at this point, which is a matter of great concern to us.
"The bus was taken out of service immediately and was driven back to the depot where it is currently being repaired."
A police spokesman said officers had attended reports of the collision on Mannington Lane at 19:00 BST on Thursday.