Rifles march through Swindon in Freedom of the Borough parade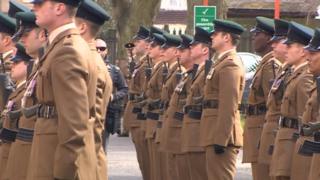 The Rifles regiment has paraded through Swindon town centre to exercise the right to the Freedom of the Borough.
The Rifles formed in 2007 following the merger of four regiments, including the Wiltshire Regiment which was granted the honour almost 56 years ago.
A silver bugle - the symbol of the regiment - was presented to Swindon Borough Council and The Rifles received a scroll confirming the freedom rights.
The Army said it was the "greatest honour that can be bestowed on a unit".
The Mayor of Swindon councillor Andrew Bennett said: "It is a source of great pride for Swindon residents to see the Riflemen exercising their right to the Freedom of the Borough.
"The freedom is a well-deserved salute to them all."
The Rifles formed on 1 February 2007 from an amalgamation of The Devonshire and Dorset Light Infantry, The Light Infantry, The Royal Gloucestershire Berkshire and Wiltshire Light Infantry and The Royal Green Jackets.