Salisbury NHS Foundation Trust 'requires improvement'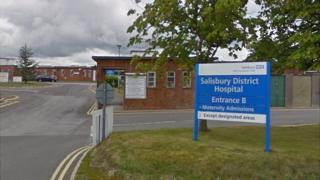 An NHS trust which runs a hospital in Wiltshire has been rated by a health regulator as "requiring improvement".
A report by the Care Quality Commission (CQC) said patients were at risk due to staffing levels across Salisbury District Hospital failing to meet national guidelines.
It also said patient's individual needs were not being consistently met.
But inspectors praised Salisbury NHS Foundation Trust over several areas of good or outstanding practice.
The CQC inspection of the trust took place in December.
It rated the trust as "requiring improvement" in three out of five categories, but rated it as "good" in the areas of effectiveness and caring.
Among areas of concern was that patient records at the hospital were not consistently written and managed appropriately.
Inspectors also found that responsiveness to vulnerable patients with mental health needs could be improved.
Sensitive care
The CQC's recommendations to the trust include a review of staffing levels and to ensure patients records are kept secure and confidential at all times.
However, it highlighted the sensitive care provided to relatives in the hospital's bereavement suite as well as maternity and gynaecology patients.
Good support and appropriate monitoring for patients with dementia was also praised.
Chief executive of the trust, Peter Hill, said: "I know that our staff work hard to provide good quality care for our patients and should be proud of the work that they do for our local community, in what are difficult and challenging times for the NHS."
"A detailed action plan is in place to continue the improvements we have already started to make in areas identified within the report, and we will continue to work closely with our colleagues within the local healthcare system."