Swindon mother angry over medicine delay for son with rare illness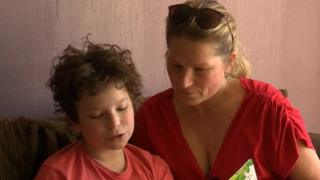 A mother who travelled 80 miles to pick up "vital" medicine for her son has criticised her doctor's surgery for a delay in ordering the drugs.
Nicki Styles drove to Great Ormond Street Hospital in London from Swindon to collect the drugs for Brandon after "confusion" over his prescription.
Brandon has Argininosuccinic Aciduria - a rare metabolic condition, causing ammonia to build up in the blood.
Carfax Health Enterprise apologised but said the delay had not put him at risk.
Ms Styles said she had applied for the drugs online but the prescription was still not ready more than a week later.
'Knife's edge'
She said this meant she had to drive to Great Ormond Street Hospital herself to collect the drugs, which her 15-year-old son has taken every six hours "his whole life".
"It's living on a knife's edge, this condition - he can get so ill, so quickly. Even with the medication, he can take a turn for the worse.
"My son's life depends on it," she added.
A Carfax Health Enterprise spokesman said it was "very sorry for the confusion" which had delayed "dispensing the medicine for our patient".
He said: "As soon as we were made aware of this, we immediately sought expert clinical advice from Great Ormond Street Hospital that there was no medical risk to our patient from not taking the medication until it arrived."